Division
HVAC
The Heating, Ventilation and Air Conditioning (HVAC) Division is a leading provider of heat transfer products for all application areas – from residential construction to commercial and industrial buildings. The main brands Kermi, Arbonia, Sabiana and Prolux were supplemented in the reporting year as a result of the acquisition of the Vasco Group, and its brands Vasco, Brugman, Superia as well as Tecna S.L. The division's production sites are located in Germany, the Czech Republic, Italy, Belgium, Poland and the Netherlands. It is also served by numerous distribution sites in Europe and a global network of exclusive sales partners to enable customer proximity.
Market development
The HVAC Division achieved a total revenue of CHF 505.5 million (previous year: CHF 408.3 million). The Vasco Group and Tecna S.L. acquisitions are included in the growth figure of 23.8% on a pro rata temporis basis. When adjusted for currency and acquisition effects, the division demonstrated its growth strength through revenue growth of 5.0%. Despite the highly competitive market environment and the challenging development of costs, the division was able to improve the EBITDA without special effects of this reporting year to CHF 54.8 million compared to the previous year (CHF 45.6 million) and to further increase competitiveness through investments in the production sites. The unadjusted EBITDA amounted to CHF 46.9 million (previous year: CHF 50.1 million). The division achieved an EBIT of CHF 22.8 million, which in the previous year was CHF 34.6 million. Without special effects, the division had an EBIT of CHF 33.1 million (previous year: CHF 29.5 million).
As a result of high levels of customer trust, low interest rates and stable property markets, new home construction activity shows attractive growth throughout Europe as in previous years. However, a lack of available capacity in the installation trade means that this growth in new construction is having a detrimental effect on renovation activity.
In Germany, which continues to be the division's most important market, the bottleneck in skilled employees within the sanitary equipment and heating trade, combined with a lack of available building plots, hampered the residential construction situation, which in itself was positive. In spite of this, in the reporting year the division succeeded in further growth in Germany with its wide-ranging product portfolio. The division was also able to generate substantial revenue growth in the domestic market of Switzerland thanks to a combination of sustained strong developments in the construction of rented housing and low interest rates. In Italy, construction activity in 2018 only showed slow recovery following a number of difficult years, while building refurbishment and modernisation activities remained stable.
By acquiring the Vasco Group in May 2018, the HVAC Division was able to fundamentally expand its market access to the important markets of Belgium and the Netherlands. As a result, the HVAC Division is also taking an active part in the European market consolidation in the area of design and steel panel radiators. With the announced closure of the steel panel radiator plant in Zedelgem (BE) in November, the division is consistently pursuing its strategy for the continued optimisation of its production footprint.
The division additionally succeeded in a strategic expansion of its market presence in Europe, with the acquisition in September 2018 of Tecna S.L., a long-standing distribution partner of Sabiana in Spain and Portugal.
In Russia, the new product standardisation for radiators entered into force in mid-2018, temporarily hampering local operating activities. However, after having received the necessary certification, these increased again significantly in the final months of the reporting year and will continue to increase after the opening of the steel panel radiator plant in the metropolitan area of Moscow (RUS) in 2019, for which construction is currently on schedule.
Products, technology and innovation
Not only has the HVAC Division grown by over 65% over the past five years, but it has also fundamentally changed and expanded its product portfolio and market presence. For several years, radiators have represented over 90% of the division's overall revenue, with steel panel radiators in the DACH region accounting for over 65%. In 2018, despite consolidated growth, radiators only accounted for under 65% of overall revenue, less than 40% of this being steel panel radiators, which are largely being sold in emerging markets such as Eastern Europe and Russia. However, the most significant proportion of the division's consolidated revenue growth in 2018 was in the product segment heat pumps, floor heating, convectors, and air-conditioning and ventilation technology. This proportion has risen to over CHF 200 million over the past five years. Furthermore, the substantially expanded range of electric heat exchangers is providing an increasingly significant contribution to the division's continued growth.
In the water-based heat exchanger segment, new products in the area of design and steel panel radiators contributed significantly to the division's success. What's more, innovative solutions in regulation and ventilation technology increased the interest of specific target groups, such as the residential industry. The heat pump product range for private housing construction was optimised for room cooling. In addition, the division introduced new radiant panels for industrial heating and commercial construction, as well as new ceiling cassette units with higher cooling performance in order to expand its market-leading product portfolio.
Through its market penetration strategy, the division supports the product range of the centralised and decentralised ventilation, which is now complete for every application area and every type of building. In Switzerland, for example, a new generation of centralised ventilation systems is in the market launch phase under the brand name Prolux. This generation has a unique price-performance ratio while also being extremely compact and exceptionally quiet. In principle, the platform strategy introduced to product development enables every individual requirement of a regional market or distribution channel to be optimally addressed.
Alongside the product ranges for heat transfer through water and through air, the division is focusing on completing its portfolio for electrically-driven heat transfer. Specifically, this includes new radiators for standard operation or additional electrical operation, which are being presented at the ISH 2019 trade fair in Frankfurt (D), in order to expand market cultivation activities to include electrical installations.
As part of continual process and manufacturing optimisation, the investment measures initiated at the different sites were successfully continued or finalised in the reporting year. The division invested around CHF 25 million in Plattling (D), with the beneficiaries including a project for fully automating the final assembly and packing processes, and a new welding line for steel panel radiators. Furthermore, the division focused on digitisation to diversify its production and expand its distribution and service activities by developing digital tools and optimising product data management.
Based on a complete portfolio of heat transfer products, the division offers the ideal solution for all sales channels and users to meet every comfort requirement as well as for use in every type of building and application.
Sustainability
The principles of sustainability have been an integral part of the HVAC Division's corporate philosophy for decades now, and are applied in the areas of product development, production, and customer and staff relationships. By applying a management system certified under ISO 9001/14001/50001 (Quality/Environment/Energy), the division focuses on all processes, from development through to disposal. The advantages that energy efficiency offers to customers and the environmentally responsible use of resources are at the heart of all newly developed products, which meet the highest energy standards.
Sustainability is also a key focus in the area of energy consumption. Italian company Sabiana, for example, produces over 75% of its annual energy from photovoltaic installations, and in Plattling (D), a state-of-the-art energy data logging system enables weaknesses in production to be analysed and inefficient consumers to be replaced effectively.
The obligation to define suitable employee protection goals is a standard element of corporate policy. Each year, the company introduces prevention campaigns focusing on a range of different subjects and managers also receive training in the area of responsibility for occupational safety, as a means of giving safety-related issues more prominence.
Outlook
For 2019, the HVAC Division expects the market environment to remain satisfactory in economic terms, although some country-specific slowdown is starting to be felt. For example, there is currently growing concern in Switzerland about the high number of empty rental properties. The insufficient capacity in the installation trade, mainly in the domestic market, will be an ongoing topic. The two latest acquisitions, the Vasco Group and Tecna S.L., have opened many possibilities for further growth and increased efficiency of the division, such as the announced closure of the Zedelgem (BE) production site in 2019, and the subsequent relocation of production to the highly automated sites in Plattling (D) and Tubbergen (NL). Furthermore, the production launch of steel panel radiator manufacturing in Stupino (RUS), scheduled for Q2 of 2019, is a crucial milestone for the planned revenue growth in the Russian market.
Thanks to its consistently implemented strategy, expansion of its regional presence and continuous product innovations in relation to heat transfer involving water, air and electricity, the division is superbly placed to achieve further growth.
Highlights
Trade fairs attended in 2018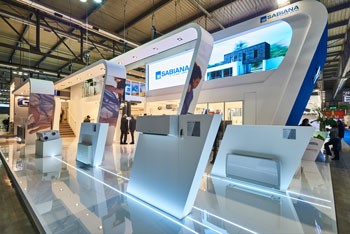 In the reporting year, the diverse HVAC Division brands presented their new products at numerous trade fairs throughout Europe, including in Basel (CH), Milan (I), Wels (AT), Essen (D), Nuremberg (D) and Hamburg (D).
Column radiators for Charité hospital in Berlin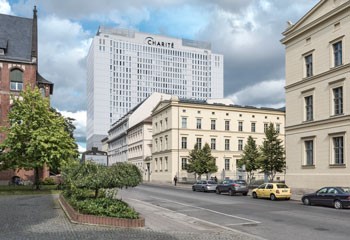 Charité in Berlin (D), with over 3 000 beds, is one of Europe's largest and most modern university hospitals. Complex renovations were recently carried out on the high-rise ward. Ludes Generalplaner GmbH from Berlin (D) carried out the planning for the work. Arbonia delivered around 35 000 column radiators as part of the renovations.
"Skystar Jumbo" cassette unit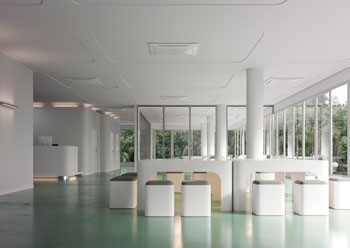 The new "Skystar Jumbo" cassette fan coil by Sabiana was successfully launched in 2018. The product boasts a high cooling capacity and an innovative design. With six different models, it can be installed in every type of building.
300 "Avero V" for Sue & Til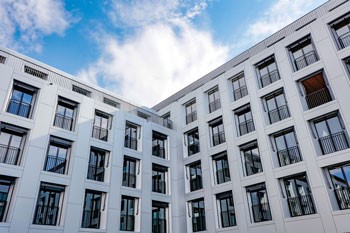 The housing project Sue & Til in Winterthur (CH) was equipped with over 300 "Avero V" ventilation units by Prolux.
New ventilation training centre in Dilsen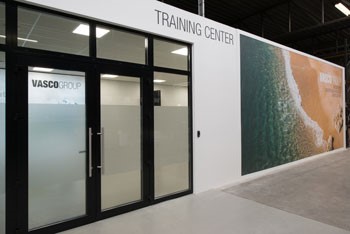 Given the increasingly stringent requirements in installation and ventilation technology, businesses depend on the professional support of manufacturers now more than ever. In the Dilsen (DE) production plant, Vasco is therefore offering training on ventilation to installers and tradespeople in a dedicated training centre with 120 m² of space.