Consisting of the companies Prüm, Garant, Invado and RWD Schlatter, the Doors Division is one of Europe's leading providers of interior doors and timber frames. On 1 January 2017, RWD Schlatter acquired TPO Holzsysteme, a specialist in premium fire safety products. The Doors Division has four production sites: two in Germany, one in Switzerland and one in Poland.
The Profile Systems Business Unit was taken over by the Belgian firm Reynaers with retroactive effect from 30 June 2017. The purchase agreement was signed on 14 December 2017. The transaction was then finalised on 22 January 2018.
Market trends
During the reporting year, the Doors Division achieved a revenue of CHF 416.5 million (previous year: CHF 156.7 million), which represents growth of 165.9%. On a pro forma basis (including Looser's door business, but without Forster Profile Systems) and adjusted for currency effects, the revenue increased significantly by 4.8%. The division's EBITDA amounted to CHF 45.4 million (CHF 5.8 million in the previous year). Without special effects, the EBITDA rose from CHF 6.8 million to CHF 44.2 million. The result for the EBIT amounted to CHF 22.5 million (CHF 2.8 million in the previous year). Excluding special effects, this resulted in an EBIT of CHF 21.3 million (CHF 3.8 million in the previous year).
Forster Profile Systems was sold to the Belgian Reynaers Group on 22 January 2018. The following content therefore only relates to the interior door business.
The year 2017 was marked by a diverse market environment for the Doors Division. With an > 50% share of total revenue, Germany is the division's most important market by far, followed by Switzerland and Poland.
The German market continues to experience very positive growth. The total market for interior doors grew by around 2% in 2017 compared to the previous year, according to market studies. This can be primarily attributed to residential construction, where new constructions have increased by 4–5% in comparison to the previous year, while renovations recorded a slightly negative performance and non-residential construction remained constant, in comparison to the previous year. The sales growth of Prüm-Garant was significantly above market growth. The positive growth trajectory is also expected to continue in 2018 and 2019 at a rate of 2–3% per year. With Prüm and Garant, the Doors Division holds a market share of around 20% of the German interior door market.
The Swiss residential market remained at the same high level as previous years. The most important factor supporting residential construction is the continued high demand for investment properties, due to a lack of investment alternatives. Non-residential construction is on the decline. There is a lack of economic impetus in the commercial property sector. The retail trade and tourism continue to suffer from the euro exchange rate and an increase in online business. Office construction has been adversely affected by low employment growth and a trend towards open-plan offices and shared desks. Demand for construction in the public sector, including hospitals and schools, is growing. Within Switzerland, Arbonia holds a very strong position in the last two of the aforementioned segments. RWD Schlatter increased revenue in Switzerland by 5% in 2017 in comparison to the previous year.
The Polish residential market is benefiting from strong economic growth in Poland. The number of apartments completed in 2017 increased by over 5% compared to the previous year. This growth is driven by good labour market conditions with rising wages and falling unemployment. In 2017, revenue at Invado grew by over 10% compared to last year. The increasing affordability of mortgages and low interest rates may also contribute to a further increase in the number of completed homes in 2018.
Products, technology and innovation
One of the focuses of the year under review was the integration of Prüm, Garant and Invado into the Doors Division of the Arbonia Group. These companies perfectly complement RWD Schlatter. While RWD Schlatter holds extensive expertise in the production of functional doors for high security requirements, the strengths of Prüm, Garant and Invado traditionally lie in residential construction. The initial phase of their integration saw the expansion of RWD Schlatter's product range to include Prüm doors. As a result, RWD Schlatter's sales teams now have access to Prüm's extensive range of premium products. Furthermore, this helped to achieve positive progress in increasing sales of Prüm doors on the Swiss market in future. Due to the delays to the European standardisation process, Prüm and Garant are currently unable to sell RWD Schlatter functional doors in Germany. The harmonised product standard was originally due to be implemented in 2016, though now this may not take place until 2019. By pooling and renegotiating the purchasing volumes of Prüm, Garant and RWD Schlatter, significant savings have been achieved in the area of purchasing at RWD Schlatter.
New products developed by Prüm and Garant were presented at BAU Munich 2017, the world's leading construction trade fair. New developments included an expanded range of surfaces, a new glazing portfolio and a new line of white lacquer. Another point worth noting is the continuous enhancement of the functional doors segment, which now also includes doors with exceptionally high sound insulation.
In the age of digitalisation, it is not only products but also data that is key to success on the market. By combining product information management (PIM) and electronic business processes (EBP) in order processing workflows with clients, Prüm and Garant have adopted a leading role on the German door market.
Ongoing investments in state-of-the-art production facilities and processes, innovative technology, and the expansion of storage and logistics capacities are an essential requirement for ongoing revenue growth and increasing market shares. In 2017, the Doors Division invested a total of CHF 23 million. This corresponds to an investment rate of 6.8% of net revenue. Plans for 2018 include extensive investments in new premium edging systems at Prüm and Garant, and a new door production hall and frame line at Invado. The investment programmes will help to expand these plants' capacities and form the basis for future growth. Due to the companies' above-average growth over the past few years, they are currently operating close to their limit in terms of capacity.
Sustainability
The environment and sustainability play a central role in all companies in Arbonia's Doors Division. Its products have been awarded a number of sustainability certificates, be they for material sourcing, living standards or carefully planned material cycles. All companies in Arbonia's Doors Division are FSC-certified. The high standards of these certificates help to ensure sustainable forestry. The doors in RWD Schlatter's product range are among the most environmentally friendly on the market. Until very recently, RWD Schlatter was also the world's only door manufacturer to hold natureplus certification. Natureplus-certified products are developed especially and are proven to be free from harmful substances and toxic emissions.
Arbonia's Door Division also places the greatest possible emphasis on sustainability during the production of its doors. For instance, Prüm uses incinerators that directly extract any wood chippings generated during door and frame production and then use them to generate heat and process heat. In a further stage, the 10-megawatt thermal cogeneration plant converts thermal energy leftover from the process heat and heating processes into electrical energy using two turbines and generators. Thanks to this system, Prüm can cover around 50% of its power requirements with its sustainable production plant. Prüm and Garant operate an energy management system in accordance with ISO 500001. All processes involving energy are logged and monitored using automated measurement points. The resulting key figures are translated into annual energy targets and used to improve and optimise processes.
New extraction systems at the factory in Poland helped to significantly reduce dust levels for staff in 2017. In light of a decline in employee availability, the creation of attractive workplaces is becoming increasingly important.
Outlook
The companies in Arbonia's Door Division will continue to establish closer working relationships over the years to come. In future, this will take place at an organisational level, covering finance, human resources and IT, and will also include a collective purchasing strategy, a comprehensive approach to product management and close collaboration in the marketing area of Prüm, Garant and RWD Schlatter.
With regard to the market, Prüm is planning to increasing its share of the Swiss door market. Every year, interior doors valued at around CHF 70 million are imported from Germany to Switzerland. Arbonia's Doors Division is aiming to increase its participation in this market in future. The conditions for achieving this goal are ideal thanks to the combination of the leading specialist German door supplier, Prüm-Garant, and the leading provider on the local Swiss market, RWD Schlatter. Based on the positive market trends in Germany and Poland, we are expecting revenue to increase by 3–5% in 2018.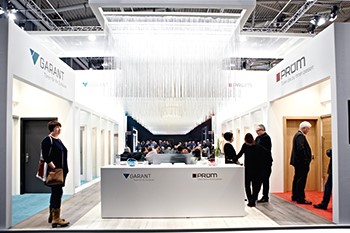 Prüm and Garant attended BAU trade fair in Munich (D) with a wealth of new products and innovative customer solutions. The mood at the world's leading trade fair for the construction industry was positive throughout. Prüm and Garant's new line of surfaces, new glazing range and new series of white lacquers garnered a great deal of interest from customers.

The factory of the future
For Invado, the past three years have been marked by double-figure growth in revenue. Its production plant is currently operating at its limit in terms of capacity. In order to build a foundation for future growth, Arbonia's Board of Directors approved a CHF 15 million investment programme in 2017. This will be invested in a new door production hall and a new frame line. The additional, extensive investment programme is due to be implemented in the period 2018–2020.

Contract awarded for Graubünden hospital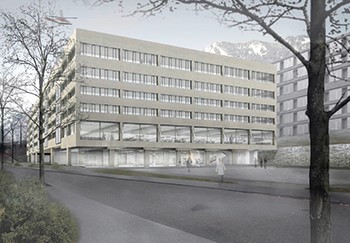 By being awarded Switzerland's largest contract for interior doors in hos­pital construction, RWD Schlatter brought the year to a very successful end. The door volume includes doors and frames worth a value of around CHF 4.9 million. The products will be delivered in several stages until 2020. As the recipient of this high-status contract, RWD Schlatter has reinforced its pioneering role as a supplier of hospital doors on the Swiss market.