Innovative products and solutions
Our product strategy is based on optimising existing production processes and existing products as well as developing innovative solutions. In doing so, we focus on energy efficiency. We expect further impulses and leaps in development from green technologies. This is our reaction to the increasing demands of customers, residents, and legislators. At the same time, these innovations allow customers to reduce energy consumption and thus save money. We collect data on the revenues that result from the new products and use this to analyse the success of our product innovations. Feedback from customers and end users significantly contributes to a qualitative assessment as well.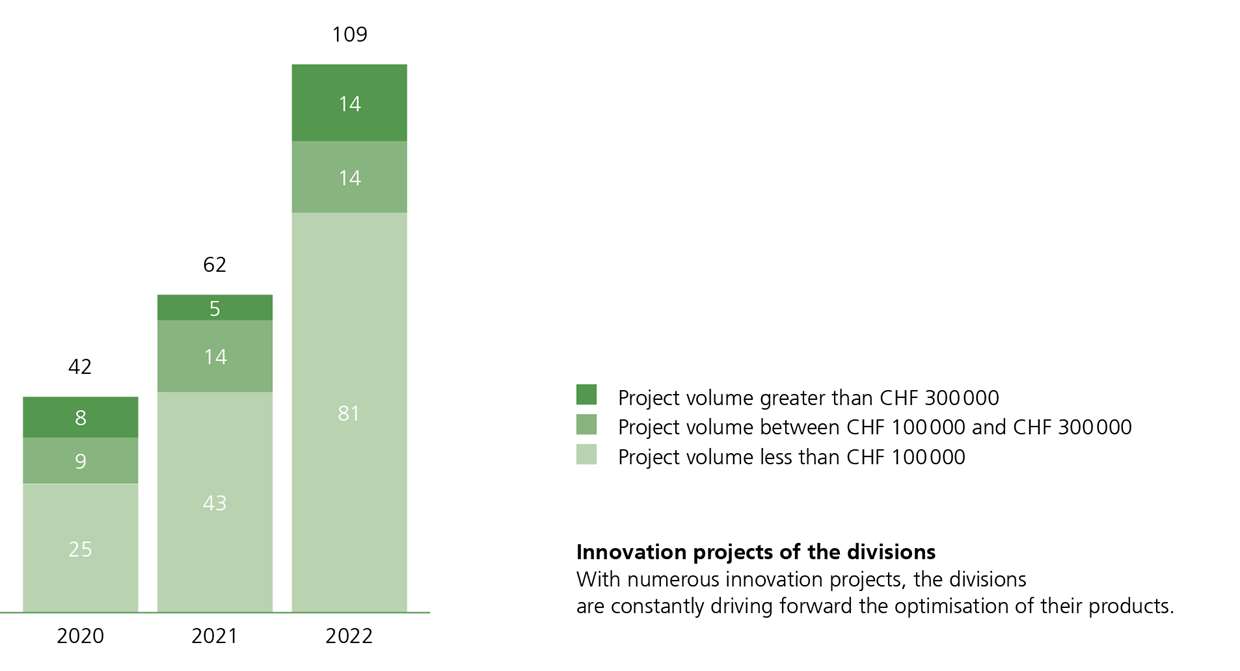 Heating, Ventilation and Air Conditioning Division
Energy efficiency thanks to new products
The HVAC Division is continually expanding its existing portfolio with environmentally friendly and energy-saving products and solutions. Traditional heat transfer media as well as modern indoor climate solutions reduce the CO2 emissions of buildings, benefit from European subsidy programmes, and are strongly in demand in new construction as well as in renovation. A current example of a product innovation is a newly developed heat pump radiator that was placed on the market in the reporting year. This product allows the heating system to be operated at low temperatures, increasing the efficiency of the heat pump. Due to the great demand, further sizes with an additional cooling function will be launched in 2023.
At the HVAC Division, the development of a new heat pump generation and its own storage battery proceeded as planned. In the reporting year, air / water heat pumps for outdoor use with an output of 7 kW and 11 kW as well as a storage battery with a capacity of 6 kWh were introduced to the market. For 2023, an air / water heat pump with an output of 18 kW and a storage battery with a capacity of 10 kWh are also planned in order to be able to equip larger properties. The development of innovative heat pumps and the storage battery enjoy a high priority at the division due to their sustainability. In addition to the actual product development, this also concerns the further process optimisation and system integrations.
The HVAC Division aims for additional innovation impetus through participation in trade fairs, cooperation with universities, studying specialist literature, participation in industry associations and standardisation bodies, as well as the continuous further training of employees. New developments are protected by applying for industrial property rights if possible. The systematic product optimisation is based on the regular exchange of ideas between management and production as well as a professional deadline and cost monitoring.
Action instead of reaction
The HVAC Division continues to orient its product portfolio according to sustainability criteria that are compatible with the economic balance of the company. The declared aim is to identify changed market requirements – for example, due to new regulations and laws – early on and to offer new solutions proactively. A good example of this are energy-efficient and resource-saving product solutions for the renovation of existing buildings. The heat pump radiator allows existing radiators to be replaced by efficient low-temperature radiators without major interventions in the existing piping systems. The division therefore expects further revenue growth in this area.
Key figures of innovative products and solutions: HVAC Division
1 New products are defined as products introduced during the last three years.
Doors Division
Complete offer according to individual customer requirements
The innovative products and solutions of the Doors Division are very important for the pursuit of new market shares. The emphasis is on mass production as well as the manufacturing of wooden and glass doors according to individual customer requirements. The division is also pushing the development and manufacturing of technical doors and fire protection doors as part of a joint project within the entire Wood Solutions Business Unit. The production is supplemented by various service solutions. Intensive support of customers during the construction phase is thus just as natural as preserving the value of manufactured products. This is done, for examplre, by providing specific cleaning agents and maintenance instructions / work.
Customer-oriented products
The development of high-quality products with optimised material use is based on in-depth market observation: Through regular customer surveys, the division ensures that the requirements and demands of customers are taken into account and reflected in the innovation process. In product development, it not only concentrates on the technical progress but also on an innovative design that aims to convince users and fitters equally. The exchange of experience between the companies of the division as well as the contact with research centres establish solid foundations for this.
The division aims to expand its leading position in the European doors market by developing customer-oriented products, optimising the existing portfolio, reducing delivery times through targeted investments, and strengthening customer relationships. Important drivers for this progress are digitisation and the reduction of packaging material – as well as the development of new product groups. A good example is the PU edging system at the Roggwil (CH) site, which can be used to produce long-lasting doors for the hospital area. The robust edge contributes to a longer use of the doors. The same effect is achieved by the aluminium frames. A further market innovation is DigiDoor. This technology is based on a digital twin and allows a fast access to product-specific information. This accelerates the process with maintenance and repair work in particular.
Success monitoring for new developments is ensured with a systematic project management and regular reporting to management. The companies of the division make an important contribution to establishing future standards and regulations through their active participation in bodies and committees. This also makes it possible to identify trends early in order to adjust the strategic orientation.
Key figures of innovative products and solutions: Doors Division
1 New products are defined as products introduced during the last three years..